Front Office Associate Course
Course

Description

After completion of Front Office Associate Course, The Trainee will be liable for receiving the guest, handling guest registration method, reaching to any guest necessities, cashiering and handling guest accounts throughout the stay.
The individual at work registers the guest, addresses their queries, allots the rooms, handles payments and ensures a smooth stay of the guest. The job requires the individual to have: presentable looks, attention to details, politeness, cheerful disposition, healthy habits, commitment, and be able to work in standing position for long hours.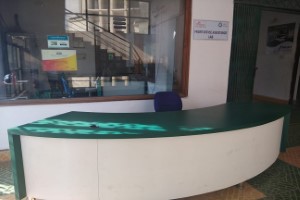 Application National Occupational Standards (NOS) of Front Office Associate Course:
1. Record guest details for registration

This OS unit is about registration of guests during check-in. This also includes receiving the guest, complying with the organizational and regulatory requirements on the guest registration process and recording guest details in the hotel records.

2. Follow the check-in procedure and allot room

This OS unit is about allocating the room to the guest. It also includes understanding the guest profile and preferences, converting room inquiry to sales while ensuring that organizational objectives are met.

3. Attend to guest queries

This OS unit is about attending to any of the guest requirement including room related facilities, amenities, and requests for consumables, etc. It also includes informing the guest about any messages received and ensuring that they are satisfied with rendering service.

4. Perform cashiering activities

This OS unit is about handling the payments of guests on the front desk. It also includes the preparation of invoices, handling bills from other departments and closing the guest account on check out.

5. Communicate with customer and colleagues

This OS unit is about communicating effectively with superiors, colleagues, and customer to achieve a smooth workflow

6. Maintain customer-centric service orientation

This OS unit is about to understand the customer needs, understanding the market standards of service, assessing scheduled services and those that are unscheduled but can be offered or executing that results in customer satisfaction.

7. Maintain the standard of etiquette and hospitable conduct

This OS unit is about maintaining standard etiquette at the workplace and achieving customer satisfaction

8. Follow gender and age-sensitive service practices

This OS unit is about following gender and age sensitivity practices by treating the women, men, children, and senior citizens equally and offering them service as per their unique and collective needs also treat ladies with respect and making certain personal and material security in any respect times

9. Maintain IPR of organization and customers

This OS unit is about securing intellectual property rights of the employee's organization and respecting customer's copyright

10. Maintain health and hygiene

This OS unit is about maintaining hygiene and community health at tourist spots, hospitality units, roadside eateries, and retail shops, restaurants, office units, conventions and events, cruise liners, commercial spaces, and recreation centers

11. Maintain safety at workplace

This OS unit is about following workplace safety standards to have a hazard-free work environment and avoid downtime because of disruption from personal injuries and hazardous system failures

12. Learn foreign or local languages including English

This OS unit is about gaining working competence in a language other than that used daily, i.e., a foreign language or a local language

Course Duration
2-3 Months


Sub Sector
Consumer Electronics
Our

Project & Training Centres

Project: OSFDC

---
Training Centre

Asmacs Skill Development - BRMITT, Bhubaneswar, Odisha
Eligibility

Criteria
Min Educational Qualification :
Standard 8th Pass
Min Age for Applying for this Course:
Above 18 Years
Max Age for Applying for this Course:
Below 35 Years